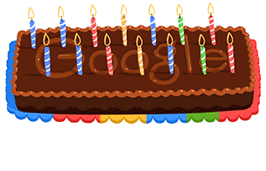 Wishing

very

happy

birthday

to

Google

.
It's the 14th birthday celebration for Google this year. Google is facing so many challenges to retain its values and add new as well. Here are few facts for Google that they have to fight against or for better search engine experiences.
1. Orkut is dying almost specially after Facebook popularity globally.
2. Google plus is unable to challenge Facebook as expected.
3. Recent Panda updates, Caffeine update, Penguin update and other algorithm updates been very stressful for Google. Visit here
Google panda updates in 2011
4. Google can too commit genuine mistakes like
this
in past days.
5.
It was not fresh update in Google SERPs
as they always promise for better user experiences.
6.
Removing artificial and unnatural links given in the Google webmaster tools
is not much helpful for people but very much helpful for Google. It was a hugely discussed topic among internet communities in last few months since after google penguin update started.
7. Disavow tool from Bing is a creative change that could be challenging for Google search in future. SEO communities like it and support it a lot.
8. Google have been able to remove scrapped content from SERPs for various industries searches online.
9. Google Android mobile/tablet application is gaining huge success specially in India, with Google Play store to download various mobile applications.
10. Recent changes from Google been very challenging. Expecting Google be on their world "Don't be Evit".
You will like to see this creative post on Google 13th birthday last year.
Thanks, please share your thoughts in comments.
Deepak Rajput